Remember its flight, for the bird is mortal.
Kuş ölür, sen uçuşu hatırla.
Ein Vogel ist sterblich, aber erinnere dich an seinen Flug.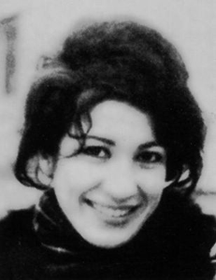 Forugh Farrokhzad
Füruğ Ferruhzad
Forugh Farochzād
Forugh Farrokhzad (1935-1967) was an Iranian poet, writer, actor, director, artist. She is one of the most important poets of the 20th century in Iran. – Source of her picture: Wikipedia, Creative Commons CC0 License.
Füruğ Ferruhzad (1935-1967), İranlı şair, yazar, oyuncu, yönetmen, ressam ve 20. yüzyılda İran'da yetişmiş en önemli şairlerindendir.
Forugh Farochzād (1935-1967) war eine iranische Dichterin, Schriftstellerin, Filmregisseurin, Schauspielerin und Künstlerin. Sie ist eine der bedeutendsten DichterInnen des 20. Jahrhunderts und einer der Repräsentanninen der iranischen Moderne
Menschen sind sterblich, aber das besondere Gefühl, das Dir ein anderer Mensch gibt, oder der besondere Moment, den Du mit einem geliebten oder besonderen Menschen teilst, wird auch über seinen Tod hinaus für Dich als bleibende Erinnerung zurückbleiben. 
Das Leben ist viel zu kurz, um das Leben der Anderen zu leben. Jeder Moment zählt. Genieße die Momente. Erfülle Dir Deine Träume, sei mutig, "fliege!" in Richtung Freiheit und in Richtung Deines inneren Kindes. Damit wirst Du Spuren bei anderen Menschen hinterlassen und auch ihnen Flügel verleihen. Auch wenn sie nach Deinem Tod Deinen Namen vergessen sollten, sie werden sich an Deine Worte, Taten und "Flüge" erinnern… Du wirst ihr Vorbild sein, an dem sie sich orientieren werden und den Mut finden, hoffentlich irgendwann selbst zu "fliegen".
© Çiğdem Gül – 2015