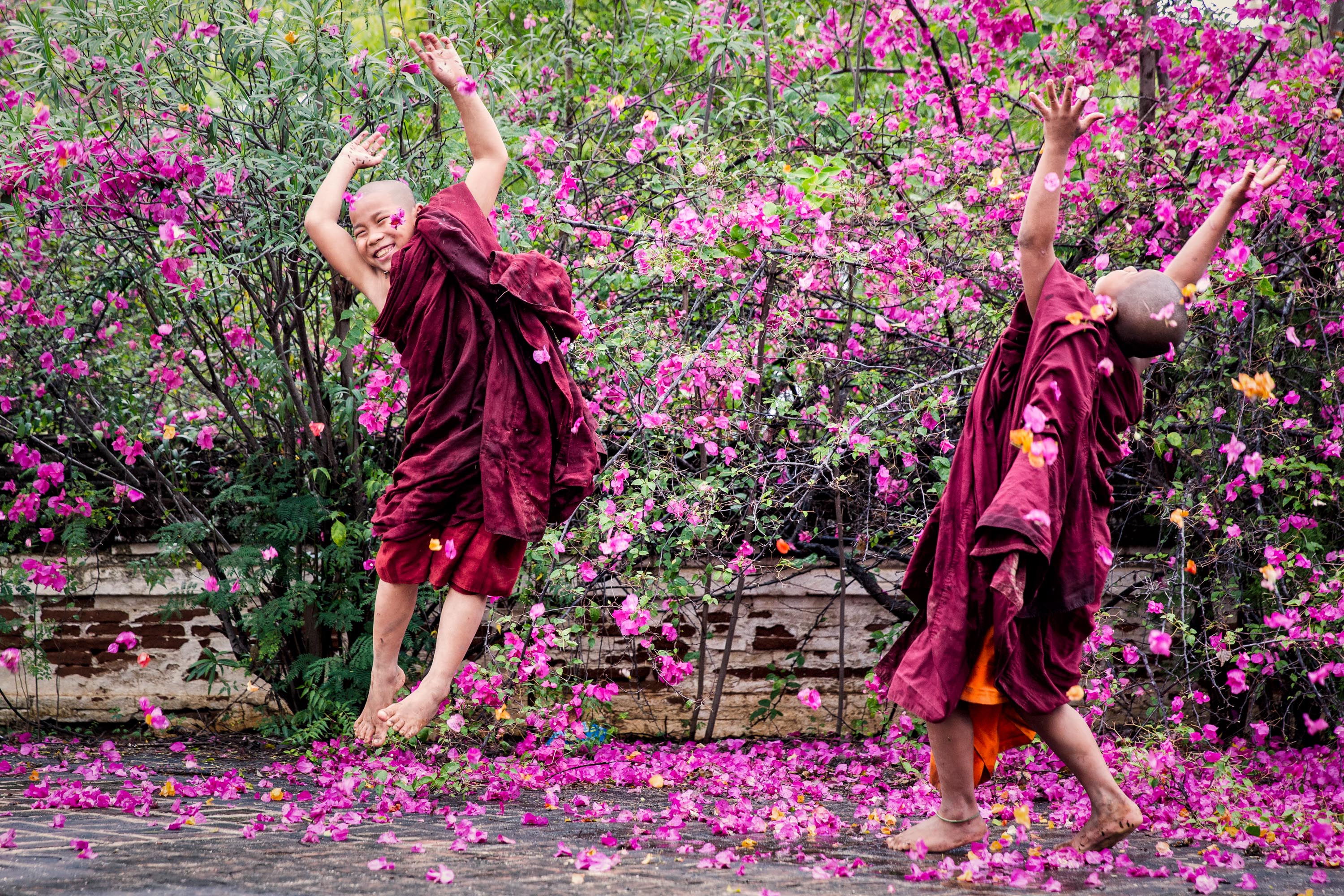 BAGAN – MYANMAR: Photograph "Raining Flower" © Courtesy of Australian photographer Giovanna Aryafara (Indonesia / Bali)
Yeeeaaaaahhh…!
We are very very happy!
Dear friends,
dear members,
dear visitors,
dear experts and cooperation partners
of our worldwide `Intercultural Network For The Highly Gifted´ (INHG).
Our INHG is turning 6! We, the team Çiğdem Gül, Dr. phil. Sathya Alessandra Bernhard PhD and Metin Türk, are very thrilled to be celebrating the 6th anniversary of our worldwide network with you. We are very happy to honor our common tireless commitment to creating an intercultural and peace-making world in which everyone has access to knowledge, access to a colorful creativity, access to exchange and access to the highest quality level.
6th Anniversary of our INHG
Allow us a compliment and a big MERCI to you. A compliment for embarking on our adventure. We thank you for the trust you have placed in us. In our INHG we have been going through thick and thin together for 6 years. Due to the global Covid-19 pandemic that has been going on since the beginning of 2020, the 5th anniversary of our network had to be cancelled in May 2020. But since June 2019 until today in our theme festival there are valuable and exciting things to discover.
Cultural diversity as development factors in the commitment to international peace is reflected in the uniqueness and diversity of identities, but also in creativity and fashion. That is why we have added the fashion world to our INHG. A fashion week is inconceivable without its brilliant photographers. We are pleased to inform you that we have so far been able to win the following internationally known fashion and celebrity photographers, fashion designers and models for our network: Walter Chin in New York. He is considered as the favorite photographer of American Vogue and he takes photos for all well-known European and American fashion magazines. Arun Nevader (Berkely-California) works for Getty Images and WireImage. He photographs countless fashion weeks, runways and events in the U.S. and Jordan. Jeff Linett (Los Angeles), Ilya Vartanian (Russia), Rafael Poschmann (Poland), Oscar Picazo (Las Vegas), Biagio Duca (Italy), Siyana Kasabova (Russia), Wolfgang Zajc (Austria), Yezidi-Kurdish model Zarya Azadi (Germany, London, Kurdistan), Russian model
Mihaleva Lyubov (Russia), Uzbek model Katya Polubkova (Uzbekistan) and the internationally known fashion designer Susanne Bisovsky (Austria) and fashion designer Odair Pereira from DAIR Design (Netherlands)

Our projects & activities from 06/2019 to 07/2021
We would like to give you an overview in chronological order of which important projects we are preparing for our network and which relevant projects we have already completed since June 2019 until today.
May 25, 2022: GERMANY – TURKEY – UNITED STATES
As part of our ongoing project on the religions Alevism – Yezidism – Islam in connection with giftedness, Zarya Azadi and me, Çiğdem Gül, are planning to publish an interview on Alevism. My interview with a "Dede" (an honorary title given to a leading person in Alevism) in Turkey and an expert in the U.S. is expected to be published by the end of February 2022. Furthermore, I plan to publish my article on Islam in an international collaboration with experts and photographers.
December 30, 2021: GREECE – TURKEY – GERMANY – UNITED STATES – ARMENIA
What does it mean to be an idealist? – The strong sense of justice, and with it the idealism as the nature of the highly gifted and genius, represents a wide range. For every idealist his conviction and action are in the center of attention as an optimum and ideal to be striven for. Whether it is also a positive or negative optimum and ideal for all other people, and even for humanity, is another question. In the 20th century in the Ottoman Empire the humane and constructive idealist Dr. Rupen Sevag (Çilingiryan) stands opposite to destructive idealist and `dictator´ Mehmed Talât Pascha. The charismatic Armenian Dr. Rupen Sevag (1885-1915) was a young medical doctor, poet, writer, intellectual leader and, on his return from studying Switzerland to the Ottoman Empire, an officer in the Ottoman Army. He was the first degree uncle of the prominent Armenian artist genius Kristin Saleri (1915-2006). Talât Pasha was the powerful Minister of Interior Affairs and the Grand Vizier of the Ottoman Empire and also a leader of the political reform movement "Young Turks". As Minister of Interior Affairs, he ordered the arresting of Armenian intellectuals in Istanbul on April 24, 1915, which initiated the genocide on the Armenian population in the Ottoman Empire. In my essay, I am not just referring to the biography, poems and photos of Dr. Rupen Sevag, but also deal philosophically with him and his idealism against the background of the time. I analyze also the timeless love between Dr. Rupen Sevag and his German wife Helene Apell-Çilingiryan. I show that the young Dr. Rupen Sevag during his lifetime and before the genocide had no choice but to choose between two extremes. On the one hand, he was faced with the decision to return to Switzerland with his wife and two little children and to lead a supposedly better life, but as an idealist he would die every day with the feeling that he had abandon Armenian people. On the other hand, he was faced with the decision to be there for the Armenian people, to risk his life in the impending genocide and to die only once. Dr. Rupen Sevag's ideal seemed to be the hope. He stayed.
On this project I am working closely with Mrs. Rehan Nazan Saleri Sarıbay (the daughter of the artist Kristin Saleri and great-niece of Dr. Rupen Sevag in Istanbul), Dr. Nansen Garo Saleri (the son of Kristin Saleri and great-nephew of Dr. Rupen Sevag in Texas), Dr. Alen Johannes Salerian (the son of Kristin Saleri and great-nephew of Dr. Rupen Sevag in Athens) and another family members. I am also working with the Houshamadyan association (Berlin / Germany) and possibly with the `Rupen Sevag Museum´ (Istanbul /Turkey) or with the `Rupen Sevag Museum´ at Holy Etchmiadzin (Armenia).
17th-19th September 2021: Not a state, but a geographical area in the Middle East called KURDISTAN – ENGLAND
For a long time the 'Big Four', Paris, Milan, New York and London, had the international fashion world of the big and established top designers (such as Christian Dior, Yves Saint Laurent, Karl Lagerfeld, Jean-Paul Gaultier, Giorgio Armani, Dolce & Gabana, Gucci & Co.), but meanwhile other cities like Berlin, Los Angeles, Stockholm, Barcelona or Lagos (Nigeria) are also strongly involved and are constantly developing their own style. For us fashion inspired regular people, however, it is the so-called `Side Fashion Shows´, which are held twice a year to offer newcomer designers and fashionistas a platform to present themselves and their new collections. So did the House of iKons Fashion Show in London. Every year, the CEO of the House of iKons, Ms Savita Kayê, offers to give a platform to a guest country. This year it was decided to choose Kurdistan as she has been working with Zarya Azadi for many years. Ms Zarya Azadi is a graduated from the Oxford Brookes University in BSc Real Estate Management. She is an international Yezidi-Kurdish Model, Senior Manager of House of iKons, Entrepreneur, Humanitarian ans Activist. She will be representing the Kurdish solo segment `The Hidden Beauty of Kurdistan´ in cooperation with the House of iKons Fashion Week London at the Leonardo St. Paul's London Hotel from 17th-19th September 2021. The Kurdish fashion designers travel from all around the world and are originally from all four different parts of Kurdistan, highlighting the colours, patterns and heritage of Kurdistan in their collection. The participants are as follows: Yadê Couture, G. Seven feat Yildizstoffe, Inci Hakbilen, Atelier by Khoshkar Horre, Bahar Yasin Studios, á la Mode, JoJo Braut & Abendmode, Joan Badrkhan Designs. The special feature of their collections is that the colors, patterns and heritage of Kurdistan are the focus. We are honoured to have Zarya Azadi as our cooperation partner and ambassador of our INHG, who will also be representing our network at this fashion event. This event will be covered by international media and press e.g. Amazon Prime and the Kurdish TV Network Rudaw which will be live streaming the solo segment as their official media sponsor.
July 15, 2021: GERMANY
Dr. Katja Isabell Wrase is a Doctor of Philosophiy (PhD) and graduate social scientist based in Duisburg. She works and researches on chaos theory, system evolution, sustainable development, theory of science and the political theory of history and ideas as well as fractals. Dr. Wrase PhD has written exclusively for our INHG the exciting essay "The Corona Pandemic, China and Its Intellectuals". In her essay the philosophical scientist first asks about the causes of the Covid 19 pandemic: How did the virus get into society around the world? Through infection, transmission through an animal or a laboratory accident? Bat or Chinese research laboratory – a highly explosive question. In this context, Dr. Wrase PhD examines the precarious situation of the mainly non-established Chinese intellectuals in the totalitarian system and practice of China. She added for her examination of her subject Hannah Arendt´s (the most important female philosopher of the 20th century) classic "Elements and Origins of Total Domination". Finally, Dr. Wrase PhD examines the extent to which civil society in China (still) has no chance.
April 06, 2021: UNITED STATES
Arun Nevader, the international renowned, extraordinary and multi-talented photographer based in Berkeley, California, gave me impressive insights in my interview that he was a former photojournalist in Central America in the midst of civil war in El Salvador and insurgent conflict in Guatemala in the 1980s. Much later as photographer he switched into the fashion world and he works also as lecturer at the university and in the College of Engineering at UC Berkeley. Arun Nevader gave us exciting insights into his biography and career, into fashion history, runways, fashion weeks, Victoria´s Secret fashion shows and celebrities.
January 30, 2021: TURKEY – ARMENIA – UNITED STATES – GREECE
In my personal project I published my articles in English and Turkish and analysed about the artistic genius Kristin Saleri (1915 – 2006). The National Gallery of Armenia will publish my article in the upcoming catalogue about this artist. Kristin Saleri was one of the important Armenian artist of the 20th century. She recognized during her lifetime in Turkey that beauty, like art and culture, always connects us all. She had not only developed her talents, her creativity and her art internationally, but above all developed ethically.
On this project I worked closely with the Kristin Saleri Art Foundation in Texas and with the following family members of the deceased artist for months and received very valuable support from them: Daughter Rehan Nazan Saleri Sarıbay and her husband Bernard Sarıbay in Istanbul, son Dr. Nansen Garo Saleri and his wife
Marina Sylvia Saleri in Texas, son Dr. Alen Johannes Salerian in Athens, her grandchildren Pauline Saleri Borally and Sy Salerian in Texas. I also collaborated with Debra Church and Clif Webb in Texas, and with the German psychologist Andrea Brackmann. She is one of the leading experts on moderately gifted, highly gifted and geniuses in three native German-speaking European countries.
January 19, 2021: SWITZERLAND – AUSTRIA
We have presented articles from our members and authors such as Jennifer Harvey Sallin (Switzerland) and Sebastian Panny (Austria) on intelligence, level of giftedness, and why a gifted person fails.
January 10, 2021: GERMANY
Prof. G. Roman Niethammer presented us, under the pseudonym `Roman RomanoW´, an exclusive reading sample from his as yet unpublished German-language novel `Véritable´ (eng: Véritable) . Angelika Wende enriched us with her inspiring contributions such as ` Die Einsamkeitsfähigkeit´ (eng. The Solitude Ability) and `Die Würde´ (eng. The Dignity).
August 31, 2020: COLOMBIA
Lorenzo Gill: "There are no exact words in indigenous languages for intelligence. Perhaps, intelligence can be measured in relation to how much and how you can adapt: it is the ability to create harmony between human beings and nature. Whoever the gifted people find solutions for the humans and natural process. We can say that the word `wise´ does exist: it is when someone is intelligent and able to manage his/her knowledge wisely." — We received this important information first hand in my interview with Lorenzo Gill. The young indigenous Wiwa in Colombia told me how he balances his life between the indigenous tribal on the country side and his city life. Including his life as a student at the Externado de Colombia University as a budding sociologist, poet and writer as well as a NGO consultant – in the capital of Colombia.
July 19, 2020: RUSSIA – UNITED STATES – ARMENIA – GERMANY – AUSTRIA – TURKEY
The highlight of our INHG work was my 14-month Alevi personal as well as international project on the "Events 1915 on the Armenians" which I work side by side with internationally known personalities, members and experts from science, organisations, literature, theatre, art, culture and film industry. Above all, they include Prof. Mihran Dabag (Ruhr-Universität Bochum and Institute for Diaspora & Genocide Research in Bochum, Germany), Professor of History Taner Akçam, Ph. D., (Clark University in Massachusetts, U. S.), Prof. Elke Hartmann (Universität Hamburg, Germany), Ms. Rakel Dink and the Hrant Dink Foundation (Istanbul, Turkey), Ulrich Klan (Armin T. Wegner society of Wuppertal, Germany), Dr. med. Zaven Khatchaturian (Armin T. Wegner society of U.S.) , Mrs. Rehan Nazan Saleri Sarıbay (Istanbul, Turkey) and Dr. Nansen Garo Saleri (Texas, U.S.) from Kristin Saleri Art Foundation (Texas, U.S.), Dr. Günter Seufert PhD (Science & Politics Foundation and German Institute for International & Security Affairs in Berlin, Germany), Şükrü Erbaş (Antalya, Turkey), Andrea Brackmann (Germany), Dr. Sezai Ozan Zeybek (Berlin, Germany), Thomas Hartwig (a director, screenwriter, and well-known writer in Berlin, Germany), Ilya Vartanian (Moscow, Russia), Artur Assoyan (Germany & Armenia) and Monika Werhahn-Mees (Germany & Armenia). Mrs Werhahn-Mees is the granddaughter of the Federal Republic of Germany's first Federal Chancellor Konrad Adenauer. Doğan Akhanlı (Berlin, Germany), the Houshamadyan association (a project to reconstruct Ottoman Armenian town and village life, founded by Prof. Elke Hartmann and Dr. Vahé Tachjian (Berlin, Germany), Osman Güden and the Yazidi community "Mala Ezdaî" (Kalkar-Kleve, Germany), our team member Metin Türk (Bonn, Germany), Deniz Alt (Frankfurt am Main, Germany), Aygün İsmet Bakır (Wuppertal, Germany) and the Wallstein Publishing House (Göttingen, Germany) – they all also supported my project.
In my project I interviewed the genocide researcher Prof Dr. Mihran Dabag in Germany. In our conversation he gave answers to the causes and structures of collective violence in the 20th & 21st century and on the events of 1915 against the Armenians.
April 25, 2020: GERMANY
Ms. Andrea Brackmann: "I think the intercultural aspects of giftedness are very important. Many well-known geniuses have theoretically and very specifically campaigned for the equality of nationalities, peoples and cultures. […] The philosopher Hannah Arendt and Albert Einstein were intensely committed to helping refugees from all over the world. Martin Luther King, who was exceptionally gifted, achieved groundbreaking things in the fight for black civil rights." — We particularly appreciated the collaboration with Ms. Andrea Brackmann. She is one of the leading experts for highly giftedness and geniuses in three native German-speaking European countries. I interviewed Ms Brackmann about geniuses in intercultural context and about her newly published German-language book `Extremely gifted: The personality structure of the most gifted and geniuses´.
March 22, 2020: GERMANY – WORLDWIDE
Hardly any status is so arbitrary and yet so decisive for our chances in life like origin and citizenship. The theme of identity is the globally bleeding tragedy of humanity. For the 2019 calendar year alone, the `Heidelberg Institute for International Conflict Research´ counted 15 wars as disputes of the highest escalation level, 23 limited wars and 196 violent conflicts worldwide. Genocide and war instigators seem not only to pursue the goal of inflicting material loss on their opponents – including minorities -, of conquering their territory, or of destroying their political, ethnic, religious system. The inner logic of genocide and war seems to be to destroy the way in which the – supposed – enemy sees himself and in which he forms his identity. In my interview, social scientist Dr. Yaşar Aydın – with a research focus on Turkey, foreign policy, migration and integration – gave us very important scientific answers on the subject of "Identity in a State of Emergency" and the consequences of globalization.
February 15, 2020 ENGLAND
Zarya Azadi represented our `Intercultural Network For The Highly Gifted´ at the House of iKons Fashion Week London.
November 21, 2019: AUSTRALIA
In the highly gifted landscape and in the world of the highly sensitive and synaesthetic persons, there is a wide choice of ethnic and cultural diversity. Although it is universally accepted that gifted individuals are found amongst people from all cultural, ethnic and socio-economic groups, there is not enough first-hand information globally, how indigenous people define the terms intelligence and giftedness. Also, how they live their intelligence and giftedness in interacting with other tribal members in everyday life. Prof. Wilma Vialle 's e-book "Giftedness from an Indigenous Perspective" examines the concept of giftedness from the perspective of the natives in Australia in the tribes Mäori and Navajo. You can download and read this e-book from the homepage of `The Australian Association for the Education of the Gifted and Talented´(AAEGT)´ website.
October 27, 2019: INDIA
In the Indian religious and philosophical traditions, all knowledge is traced back to the Gods, Rishis, and Sadhus. With his sensual photographs, Somraj Sahu in India introduces us to the love and bond between human and animal, between a sadhu and his belowed little monkey. In doing so, he reminds us of the quote from Wolfgang Amadeus Mozart that "neither a lofty degree of intelligence nor imagination nor both together go to the making of genius. Love, love, love, that is the soul of genius". For Somraj Sahu and for us, love is much more valuable than a person's IQ, no matter how high.
July 05, 2019: GAMBIA – GERMANY
When asked why white musicians would play in his band, When asked why white musicians would play in his band, Johnny Lee Hooker during his lifetime replied: "If you close your eyes and hear my music, do you see colors ?!" – These are very important words of the influential and wise black American blues musician
for our present world with an increasing racist climate and events – also in the highly gifted landscape. In Gambia, the villagers show us how successful integration works. They adopted our highly talented member, artist and self-proclaimed Bavarian African Tormenta Jobarteh there and, after eight years of intensive training, made him a griot with all rights and obligations. This is unique for a non-African with white skin. In Africa, 'Griots' are musicians, historians, chroniclers, storytellers and wise advisors all in one person. Their tradition is passed on from father to son. For many centuries the griots have enjoyed great respect among the population.
In my interview with the musician Tormenta Jobarteh, who had previously lived spiritually in Boraba-Gambia, Africa, for 25 years, I was delighted to learn that people in Africa love the stories of Nasreddin Hodscha. Tormento later went on to say: "There is no script in the African Mandinka language, instead there are living history books, the griots. They are also mediators on issues of justice and humanity. The great writer Amadou Hampate Ba from Mali once said: 'When a griot dies, it's like a library burns.'
BAGAN – MYANMAR: Photograph "Raining Flower" © Courtesy of Australian photographer Giovanna Aryafara (Indonesia / Bali)
Our big MERCI applies also to our translators in Germany: Dr. Günter Seufert Phd from the Science & Politics Foundation and German Institute for International & Security Affairs (Berlin), graduate translator and interpreter Marta Gómez-Monedero Pérez (Düsseldorf), previous court interpreter at several local courts and translator Çiğdem Gül (Wuppertal), translator Zarya Azadi (Düsseldorf) und translator Metin Türk (Bonn).
On this occasion, it should be mentioned that we don´t implement our worldwide network and, above all, the real international projects lasting several months as a full-time or part-time job, but in our free time. With this background, the enormous expenditure of time and content for our team and our previous volunteer supporters is no longer manageable. We need your support to realize e.g. new scientific, intercultural-cosmopolitan projects, interviews, text contributions, specialist articles, translators in the languages ​​Turkish, Kurdish, French, Arabic and/or Chinese. We are looking also for a social media manager who manages the social media pages of our network on a voluntary basis. If you would like join us as a social media manager, translator etc., and / or if you would like to provide us with your own project proposals, texts, interviews, pictures etc., please contact us under menu item "Contact – Contact form" or "E-mail address". Our e-mail-address: info@interkulturellhochbegabte.de
We would be very happy if you share your thoughts and feelings, feedback, opinion, constructive criticism or suggestions with us.- Please use the comment facility – comment form below.
In addition, we would be delighted to have your active exchange with us and our members in our Facebook community.
We would like to thank you,
our worldwide loyal friends, members, visitors,
experts & cooperation partners.
Warm raining-flower greetings
Çiğdem Gül
Founder of the Intercultural Network For The Highly Gifted
Wuppertal, Germany – July 03, 2021