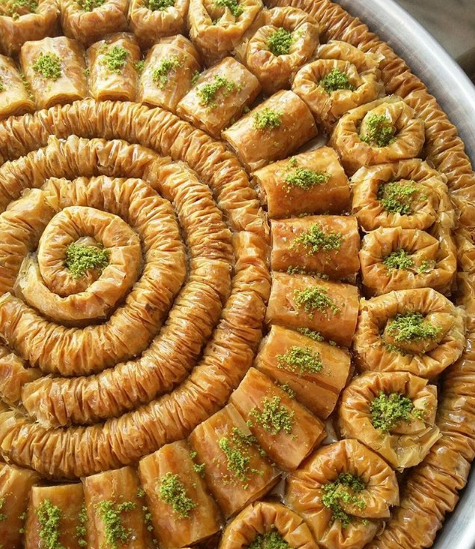 Baklava is a rich, sweet dessert pastry made of layers of filo filled with chopped nuts and sweetened and held together with syrup or honey. It is characteristic of the cuisines of the Levant, the Caucasus, Balkans, Maghreb, and of Central and West Asia.
Our Intercultural Network For The Highly Gifted
is celebrating its third anniversary
Intercultural Network For The Highly Gifted – the name of our network is also our passion and
our mission, which we have fulfilled since the foundation of the network in May 2015 with a lot of volunteer commitment.
The Intercultural Network For The Highly Gifted is an innovative extension to all existing established networks for the gifted, because as a campus for visionaries, Highly Gifted, Highly Sensitive Persons and Synaesthetes from all over the world, it focuses on multilingual, cultural and intercultural characteristics and diversity of giftedness.
And here we have accomplished together a breathtaking development
To illustrate this, a small section of our Google Analytics dashboard. The statistic shows that we are a heavily frequented site with 62.507 views and 17.517 users.
I, Çiğdem Gül, would like to cordially thank worldwide experts, interview partners, private individuals, freelance writers, artists, poet and writer friends. During the past three years and until today you have been involved in the realization of our projects, your stories and free of charge your art pictures, art, fashion and landscape photographs, texts, poems, biographies and articles have been made available to us.
Your dedication and ideas have contributed a great deal to our success.
I have listed some of the contributors in the imprint. Unfortunately there are too many to name them all.
See imprint:
http://www.interkulturellhochbegabte.de/impressum/
I would like to thank our worldwide loyal members, visitors and readers.
And lastly, my big thanks go to a special person who always stands by my side and supports our network in the background.
Co-Admin Metin Türk.
So that the bright colours of our diverse cultures continue to mix and become a colorful rainbow.
I am looking forward to your contributions and active participation, so that someday real meetings and / or events in Germany or in other countries will be possible.
Wuppertal / Germany, May 02, 2018
Çiğdem Gül
Founder & Moderator
of the Intercultural Network For The Highly Gifted