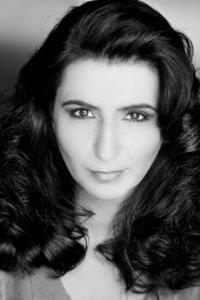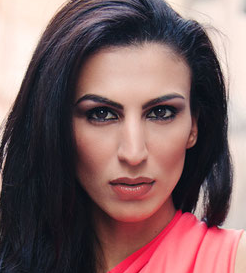 Interview with international
Yazidi model Zarya Azadi:
Between Genocide & Fashion Week

Germany, February 15, 2020
Zarya Azadi
Born in Eastern Turkey, Yazidi war child, migrant,
Human Rights Activist,
Studied BSc Real Estate Management,
(Bachelor in Real Estate Management) in Oxford/England,
Entrepreneur & international Yazidi model from Germany
Çiğdem Gül
Born in Eastern Turkey, Alevi woman, migrant,
Human Rights Activist,
Graduate Economist, Change Management Consultant,
Founder of the Intercultural Network For The Highly Gifted,
Business Coach & Freelance Journalist in Germany
Interview
Çiğdem Gül: Dear Zarya, would you please introduce yourself to our members and readers?
Zarya Azadi: I am an entrepreneur, an activist for women's rights, and an international Yazidi-Kurdish model. I fight for the rights of Yazidi women. With this purpose, I founded a unique and complex photo project in England in January 2020, which can speak to women in other cultures worldwide. I am also involved in the Spanish-based NGO "Mundo Cooperante" for women in Kenya and Tanzania against female genital mutilation (FGM). I sponsored the symbolic "Maasai bracelets", which were hand-made in Africa, and put them in the gift bags named "Goody Bags" at the London House of iKons Fashion Show in February 2020 and at my booth in the showroom. During the London Fashion Show "House of iKons", at which I also model, I have my team hand out the Maasai bracelets along with the flyers to the guests. Female genital mutilation is one of the most heinous atrocities that can be done to a woman. In the female Yazidi tradition, there is no female circumcision. It is all the more shocking and incomprehensible for the Yazidi diaspora in Germany to receive the news that, since the beginning of the genocide against Yazidis in Iraq in 2014, the members of the ISIS terrorist organization would circumcise the Yazidi women.
With the help of my artistic work, I aim to draw attention to the really important topics and to create new social projects that focus primarily on minorities. These social projects aim to establish a foundation to give these minorities the opportunity to be seen and heard, in order not only to support their people but also to help them to develop further. With my slogan "Evolve Your Heritage", I address exactly that: "Do not forget or deny your origin. Celebrate your origins. Develop yourself personally." These minorities are the ones who hold onto old traditions and customs so much because of their fear for existence, and mostly it is the girls and women who do not have sufficient education and, therefore, still financially depend on men, even in the 21st century. I also belong to a minority. I am Kurdish, and I am part of the Yazidi religious community.
Çiğdem Gül: Your family and you have been living in Germany as migrants for many years. When did you flee to Germany from Eastern Turkey?
Zarya Azadi: In 1990, my family fled from Diyarbakır to Germany away from the civil war with all the children including a three-year-old me.
Çiğdem Gül: What exactly happened there?
Zarya Azadi: It is an ongoing political and military Kurdish–Turkish conflict, a conflict between the Turkish armed forces and paramilitary units operating in Turkey and the armed Kurdish underground organization "Partiya Karkerên Kurdistanê", PKK, that has been going on since 1984. The conflict is taking place in Turkey, Northern Iraq, and Northern Syria. Although simple farmers like my parents and our Yazidi community were not involved in the conflict in Diyarbakır in Eastern Turkey, they were also the target of this conflict and suffered from brutal attacks. At that time, our village was destroyed by this conflict that resulted in a civil war.
Çiğdem Gül: How was your experience in the first years in this foreign country when arriving in Germany in 1990?
Zarya Azadi: I would like to mention first that my parents had already fled to Germany several times and applied for asylum in the 1970s and 1980s. Unfortunately, they were deported to Turkey each time, so some of my siblings were born in Germany and others in Diyarbakır. Before the civil war broke out in our region, three of my sisters were with the family of one of my paternal uncles in Germany. In 1990, my parents were able to come to Germany with the other children. Unfortunately, they had to leave all of their belongings in Eastern Turkey. I was only three years old, my youngest sister, the youngest member of our family at the time, was only one year old, and she had a heart defect and, therefore, needed medical help.
Çiğdem Gül: Your seven siblings and you went to school in Germany. In your Yazidi community, you were the first and, so far, the only girl to go abroad to England and graduate from College and University.
Zarya Azadi: Financial independence had been very important to me as a young woman, same as Duke Harry and Duchess Meghan of Sussex seem to have been very motivated to withdraw from the royal family. I can understand this decision very well because I made a similar decision when I emigrated to England at the age of 20 to study at Oxford Brookes University in 2008. The same story that is currently making headlines and caused the young royal couple the harsh criticism happened to me in my family and community, as it was the first time someone has ever done something like this. It was unthinkable to our Yazidi community, and it is still partly true today, to make and implement such decisions.
Çiğdem Gül: Members of harmed minorities, who arrived as refugees and migrants in host countries like Germany, were more concerned about the well-being of their family members and children as non-minorities in the first generation of their migration process. Losing their identity and culture, and consequently their legitimate hold to them, often came in conflict with their children's needs and expectations. It was no different with us, Alevis.
Zarya Azadi: Yes, it's true. In my day, it was unthinkable for a young, unmarried daughter to move abroad alone. It was not only about the safety of the daughter, but also about the reputation of the family. My eloquence, persuasiveness, and persistence helped me, after hours of talking, to convince my traditional and conservative parents to move to Oxford. I am aware of this, and I am particularly happy that, with my big step at that time, I gave other young girls and women in our Yazidi community in the German diaspora hope and courage to take a step like this themselves. It is always difficult for those who are first to try something new. They pave the path for their followers by making it considerably easier. Thanks to this step, it has now become a norm for a young Yazidi woman to go on vacation without a male companion.
Picture thanks to photographer: @sg.psd, jewellery: @tigerbitejewels ​
© 2020 Courtesy of Zarya Azadi (Germany) & RVP (Germany)
Çiğdem Gül: What challenges did you have to face as a student in England and with your family and in your Yazidi community in Germany at that time?
Zarya Azadi: I stayed in regular contact with my family and relatives in Germany during my studies in Oxford. We went on vacations together. They also often visited me in Oxford. When they visited me, I thought it was important to also invite my friends over to my house, so that my family could see first-hand, which people surrounded me in Oxford, and who supported me in my studies. Many of my international friends from England come from traditional or very strict families. So not only I but also my family found a connection with my friends, even if this connection did not come from the Yazidi community.
Zarya Azadi: "The genocide of Yazidis in Iraq by the ISIS terrorist organization which has been going on since 2014, has shaken and changed the view of my word so much that, after six years in Oxford/England, I decided to return to Germany. This turning point in my life prompted me to rethink my goals in life and to work as an entrepreneur and model with specialized international human rights projects for Yazidis."
Çiğdem Gül: Zarya, were you aware at the time that, with the background of the 74 (!) Yazidi genocides, your family carried a much bigger fear for you and your siblings as migrants of the first generation, who were already scared to let their children go to a foreign country?
Zarya Azadi: Until the genocide of the Yazidis in Iraq in 2014, I hadn't really understood why my family's concern in Germany for my safety in England was so serious, because I thought that I would be at the same risk in a city in Germany. When the genocide began in 2014 in Iraq, I started feeling hostility from my friends in Europe; I felt very lonely and even the only one of my kind, and, thus, threatened in a way. I was already known as the only Yazidi in Oxford. In the six years that I lived there, and in the three years that I studied there at Oxford Brookes University, I did not meet any Yazidis there or anywhere close.
In both Germany and England, I had and have the feeling that my original culture and Yazidi religion is not meaningfull to most people, Many are completely unaware that a religion called Yazidism even exists. It is the question of identity, which I am very concerned with, because I am not perceived and immediately identified as Yazidi or Kurd. I have a Turkish name, and many Turkish people don't believe that I don't speak Turkish. I find all of this very exhausting. I have , for example, accepted that my English speaking friends call me Lisa.
I have been adapting more and more to other cultures, and I never put my culture in the foreground. I never despised or hid my original culture and religion. Of course, when they became a topic, I talked about it. Most people did not understand it immediately, and that has hurt me a little over the years. After the genocide in Iraq in 2014, it was a little different – the media started to talk more about us, Yazidis. For the first time, I felt like the world saw it as important to talk about us.
© 2020 Courtesy of Zarya Azadi (Germany)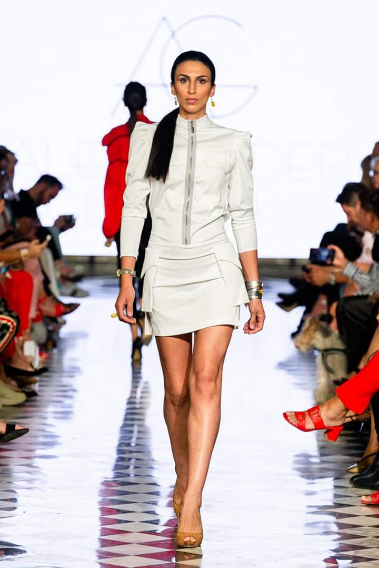 Berlin Fashion Week © 2020 Courtesy of Fashion Photographer Rafael Poschmann (Poland)
Çiğdem Gül: Zarya, how did you get into modeling?
Zarya Azadi: At the age of 16, I took part in the preliminary rounds for the Miss Germany for the first time. My mother, my second oldest sister and my older brother accompanied me. Since I was still under age, my older sister was with me in almost every room of the event. This gave her a first glimpse behind the scene. Unfortunately, I hadn't made it through in the preliminary round… Before the winner was officially announced, my sister whispered to me winner´s name, because she heard some people talking about it backstage. My sister then told me not to take it too personally and explained a little bit about the beauty pageant competition and fashion industry. She also advised me to focus on my education because this superficial competitive world and fashion industry can fool young people. So I didn't pursue it any further and started my training as a retail sales woman, which I completed with.
Çiğdem Gül: What has brought you back to modeling?
Zarya Azadi: In 2009, when I was 21 years old, I went to Oxford, England, to attend a language school and to improve my English skills. I kept myself afloat financially with irregular catering jobs, I worked as a bartender, as a cleaner, as a waitress, as a kitchen assistant and as a nanny, until I was able to start my studies at Oxford Cherwell Valley College in September 2009. I had to save money until then, so I could concentrate on my studies afterwards, because my family could not support me financially. It was also very important to me that I paid for everything myself and gained my financial independence.
One day an acquaintance on Cornmarket Street in Oxford randomly asked me if I wanted to take part in the Oxford Brookes Student Union Fashion Show. It was an unpaid job for amateur models, and, in return, the models were promised to receive the images with the rights of use. A modeling career seemed very tempting to me because I thought it would help me better finance my studies at the renowned Oxford Brookes University. After all, London wasn't far from Oxford, and with my multicultural background, it could have been a really nice opportunity. However, the Oxford Brookes Student Union Fashion Show was my first big lesson not to have too many expectations of the fashion industry, because the show was a complete disaster… (laughs). Not a single guest had shown up. Apparently, the organizers had underestimated or neglected the importance of targeted marketing when planning the event. We, the models, still had some pictures taken and had a chance to exchange contacts with the photographers. The best thing about participating in that show was that I met the Nigerian fashion designer Angel Sadel. Later, I worked as a model for her fashion collection for several years. Angel was one of my closest friends during my time in England, and the friendship continues to this day.
Çiğdem Gül: What happened afterwards?
Zarya Azadi: After the Oxford Brookes Student Union Fashion Show, I received my first offer to work with a photographer for an indoor and outdoor TFP shooting in Abingdon, in Oxfordshire. TFP stands for "Time for Print". TFP's are unpaid collaborations, and the models receive the photos for free with the rights of use. Angel Sadel was the one who motivated me to model and became a kind of personal stylist for me. She not only taught me how to pose in front of the camera, but also what clothes to wear in everyday life that would suit my type.
We were both students and the same age. We supported and helped each other in our work. Just as it is difficult for many newcomer models and newcomer designers, it was also difficult for us to make a name for ourselves in the fashion industry. I not only supported her as a model, but also assisted in planning her first own show in September 2009 in London. Supporting each other, we took part in a fashion show near Liverpool Street Station in London. There I met the Congolese fashion designer Tina Lobondi, with whom I would work on many projects in the future. Through her I was invited by Jimmy Choo to model at the first World Fashion Week in Paris in 2014, which was a turning point in my career.
Çiğdem Gül: "The face has to tell a story."
Çiğdem Gül: Zarya, as an international model, you have made the catwalks of the Fashion Weeks in Paris, Milan, Los Angeles, London, Berlin and at many multicultural fashion shows, e.g. for the French award-winning hairdresser Anne Veck at the Alternative Hair Show at the Royal Albert Hall in London, at the Ethopian Fashion Show "Habesha" in London, at Pakistan Fashion Week in London, at the UNICEF Fashion Show for Haiti in Oxford Fashion Campus, Oxford Fashion Week and the South African Fashion Show in London.
Zarya Azadi: Yes. And through these shows, I was able to expand my network and thus appear as a model on the catwalks of other international fashion weeks. However, I was never hired by any agency on the grounds of "You're not the look", although I was able to represent a wide variety of races and women types with my portfolio. From the light-skinned so-called "Caucasian" woman, the oriental-looking woman and to the African-looking woman, I embodied almost every type. How could I have been "not the look"? Contact people from agencies replied that there were already at least 1-2 models of my type in many agencies. My years of hard work and effort, which I had invested in modeling in addition to my studies, did not initially appear to be very promising.
© 2020 Courtesy of Fashion Photographer Jeff Linett (Los Angeles/USA)
Model: Zarya Azadi / Dress: DAIR Design from Odair Pereira / Handbag: Carat 23 designed by Carolina Riffi Ollite / Jewellery Designer: OTAZU by Rodrigo Otazu
Zarya Azadi: "At the seminar of the Malaysian market leader Jimmy Choo in Paris, I learned for the first time that the criteria for the models selection are not their beauty or uniqueness, but the level of economic purchasing power of the target groups in their country of origin. The phrase "You're not the look", which I often heard from potential clients, meant more than that no economically strong country feels represented with my "look". I was again confronted with and reminded of my nation's homelessness and the persecution of the Yazidis."
Çiğdem Gül: What was the most interesting thing you have learned in the international fashion world?
Zarya Azadi: In 2014, I met Mr. Jimmy Choo during the first World Fashion Week in Paris at a seminar. Jimmy Choo is a very well-known Malaysian shoe designer based in London, who, in 1996, with his partners, introduced and started selling the internationally known designer shoe brand "Jimmy Choo Ltd.". He has been designing couture women's shoes since 2001. At Jimmy Choo's seminar, I learned for the first time, which criteria were and are decisive for the selection of the models. And those are not the beauty or uniqueness of a model – that was back in the 80s-90s – now the economic background decides, which model is selected. In countries where the purchase power is highest, the models are chosen from young girls and women, with whose appearance the buyers will identify themselves. The models are supposed to induce the target group to buy the clothing. The phrase "You're not the look", which I often heard from potential clients, meant more than that no economically strong country feels represented by my "look". I was again confronted with and reminded of my nation's homelessness and the persecution of the Yazidis. That is exactly what I wanted to represent in recent years; because we, Kurds, are the largest nation in the world without an independent state – almost 80 million people worldwide. We, Kurds, are economically well positioned worldwide and have a very high purchasing power, especially when it comes to our women's clothing and particularly our weddings gowns. Kurdish, and especially Yazidi weddings are by far the most important events in our culture. Marriage and family are very important in our culture. We throw huge weddings, with 500 – 1.200 guests.
I think that, in the fashion world, the representation of a culture or a country with potentially great purchasing power is a matter of opinion for the models. The fashion world can also learn something from us, Yazidi entrepreneurs.
The fashion industry can be very misleading for us, models. It is all the more important for us to learn, to protect ourselves and, above all, to learn to say no. I've suffered a lot of failures over the years. However, they have helped me to grow professionally. I'm not going to just stick to modeling, but that will be a step for change in this industry.
The advantage of a model agency is that is it easier to find you for paid orders; but most people do not know that with every payment, you also have to pay the agency; and everything that is paid in advance, is later taken from your fees. When I was working as a model during my studies, I often read articles in the media about photographers and other men from the fashion industry and about models abuse. In the fashion world, not everything that glitters is gold, and it is very important to speak openly about these topics.
Çiğdem Gül: The Yazidi community in the diaspora is very strict when it comes to young girls and women. So it is frowned upon when they express their femininity, sensuality and freedom. Zarya, how do you feel as a Yazidi model, when you have to dress and pose very feminine and sexy?
Zarya Azadi: Although I have been working as an international model for years, I still feel a lot of shame at every photo shoot because I, with my traditional Yazidi upbringing, have to show a side of myself that I would hide and deny in front of my family and community – my feminine, sexy and flirtatious side. Please don't get me wrong, our Yazidi society is already very modern when it comes to feminine women's clothing. But it is rather strange and unwanted for them if a young girl or woman intends to flirt or take photos in sexy poses.
From the moment when the photographer stands in front of me with his camera and before he takes the first photo, my face freezes. I find being sexy in front of a camera a form of my uncontrolled self-sabotage. Unfortunately, I can't get rid of that. I'm also afraid that I don't look aesthetically pleasing in the photos. In addition, as a model, I have little influence and control over where my pictures are published. It also makes me uncomfortable. However, when I travel with my friends, in my personal life, I feel very comfortable in my skin as a woman.
Çiğdem Gül: In the meantime, is there an international platform for talented models and artists with Kurdish and Yazidi background to present their fashion and art?
Zarya Azadi: No, unfortunately, there is still no international platform for talented models and artists with Kurdish and Yazidi background. Among other things, I take this as an opportunity for us to co-found an international platform this year.
Çiğdem Gül: Imagine this: A designer takes the "war" as the theme for his collection and designs the fashion clothing that you as a Yazidi model should present on the catwalk. Would you reject an offer saying – "I already have enough of the war!" – or would you take this as an opportunity to give your Yazidi history and the genocide of Yazidis from 2014 the publicity on the catwalk?
Zarya Azadi: As a model, I would not support a design collection on the catwalk if it glorified or ridiculed the topic of war. I would take part in it if the topic is taken from the peacemaking point of view, and it is evident from the design and the way it is to be presented on the catwalk. Fashion sends a strong message, as someone told me in England
© 2020 Courtesy of Zarya Azadi (Germany)


Çiğdem Gül: As a Yazidi war child, what feelings do you have in the moments of silence?
Zarya Azadi: This is a very intense topic. (sighs) How do I feel about it? Helpless. In moments of silence, I feel helpless because we, Yazidis, also have internal conflicts in our own culture and community that we try not to convey to the outside world. It is terrible enough and unbelievable to me that a genocide can still happen to us in the 21st century. Our sisters and brothers in Nigeria also became victims of a genocide. It is difficult in the modern world to take in such terrible crimes as enslavement, kidnapping and executions. Even if we in Germany would tune out the news about the genocide in Iraq and all other terrible historical actions, we still feel very helpless because we are scared of losing our identity in the diaspora. Loneliness may not be a good expression of this, but we return more to ourselves … And sometimes lose touch with the outside world. This also creates parallel societies. On the one hand, we, Yazidis, are modern and western, on the other hand, we want to maintain our own cultural identity.
Çiğdem Gül: Yes, that's a big challenge in the migration process.
Zarya Azadi: Yes…
Zarya Azadi: "To be the only one in the family to be so different is the infinite pain of being homeless in my own family. My free spirit, being different and gifted have an unimaginable effect on my family and some members of our Yazidi community, even though I am deeply anchored in the Yazidi culture. I often heard that as some kind of feedback. I feel like they and so many people in German-speaking countries don't understand me. During my six-year stay in multicultural Oxford and London I felt that I was around like-minded people."
Çiğdem Gül: Is the intergenerational silence a big issue for you Yazidis, as for us, Alevis, or the Armenians? There is, for example, an Armenian lawyer Fethiye Çetin, who lives in Turkey. She wrote a book about her grandmother, who, in turn, had to keep the genocide against the Armenians in secret for 60 (!) years. It requires a great effort to a story like this to yourself for a whole lifetime. It means that you have to have superhuman powers to endure and survive a deep pain in silence.
Zarya Azadi: My seven siblings and I noticed our parents' war and escape trauma despite the fact that they kept it a secret for years, and we have definitely taken it over – even if unconsciously. It is still very difficult for my parents to talk about our identity, culture and religion. And when they talk about it, I feel their pain. They only started talking about it after the genocide in Iraq began in 2014. Particularly, I witnessed my over 70-year-old father suddenly open up in front of us, eight grown-up children, and talk for the first time about his escape and stay in Turkey. He talked about how scared he was back in Turkey because he had to protect his wife, his seven children, and his siblings. Our security was his top priority, so he couldn't even fight for honor. He also felt guilty because he felt like he had abandoned his countrymen in Turkey.
In school, teachers often asked me questions about Yazidism, which I passed on to my parents. But it was very difficult for them to talk about. For many years, I was angry with my parents for leaving me in the dark. But today I understand why my parents were silent.
© 2020 Courtesy of Siyana Kasabova (Russia), Creative Director Deigh Alexander (London)
Çiğdem Gül: What challenges have you faced so far in the balancing between the western world and your eastern world as a Yazidi war child from the diaspora?
Zarya Azadi: For me, the first challenge began with my own family. To be the only one in the family to be so different is the infinite pain of being homeless in my own family. My free spirit, being different and gifted have an unimaginable effect on my family and some members of our Yazidi community, even though I am deeply anchored in the Yazidi culture. I often heard that as some kind of feedback. I feel like they and so many people in German-speaking countries don't understand me. During my six-year stay in multicultural Oxford and London I felt that I was around like-minded people.
Out of eight children, I was the only child of my parents who left the safety of home to discover the big world. Afterwards, I was only able to partially share my thoughts, my studies and my modeling career with my family because it was a new territory for them and they could not and cannot always understand my world. In addition, as a young girl in Oxford, I had to finance my accommodation, school and studies myself. I had no role models to show me the way. I learned everything from my own mistakes and my own experience.
Another challenge for me as a model in the fashion world is that the Yazidis, as a small minority, are not viewed or defined as a target group by the fashion industry. Before the 2014 genocide in Iraq by IS, the global world didn't know much about the Yazidis.
As a war child and the first generation of the family, I always have a certain inner responsibility that is troubled with guilt. On the one hand, as a woman in the western world, I represent our Yazidi society and I don't want to give the western world the impression that I am a "victim" of my society because of our historical customs and traditions. On the other hand, I would like to for the western world to know about us Yazidis with all our historical and modern nuances. For my community, this could mean that they might feel betrayed by me and that they see me as a negative role model.
As a Yazidi model, it is not easy for me to reconcile western standards and norms with those of my culture. Before the 2014 genocide, I always tried not to wear daring outfits when modeling. Unfortunately, as a model, you often have no part in the decision making. You are hired as a model; the designer chooses an outfit for you from his collection, regardless of whether you or the photographer would like it. After the photo shoot, the edited images are not given to the model until many days later. In most cases, the model also has no say in the selection, license rights and publication of her photos, unless she paid for the photo shoot out of her own pocket.
Zarya Azadi: "The biggest challenge in balancing between the western world and my eastern world as a Yazidi war child from the diaspora is to always have to protect my family and myself. Even with my own Yazidi community. Çiğdem, that is the reason why I always use a stage name in the fashion world and in the media.
As a Yazidi war child from Turkey… after more than 20 years of migration to Europe, despite the fact that we live in peace now, I still feel like a refugee who is restless, homeless and needs to protect his identity."
The biggest challenge in balancing between the western world and my eastern world as a Yazidi war child from the diaspora is to always have to protect my family and myself. Even with my own Yazidi community. Çiğdem, unfortunately, I cannot use my real name in the fashion world, in the media or in our interview. With my common Turkish name, I was too often mistaken for a Muslim Turkish woman. It was always a challenge for me to have to explain myself and my origins every single time.
I have worked as a model under various stage names, in order not to stain and to protect my name and the name of my family. With each stage name, I had to redefine myself, think strategically while maintaining my identity, i.e. what I stand for with my work as a model and what I want to represent with it. At the beginning, I chose western names so that everyone could pronounce them and I could be part of the western world. Then I combined my western stage name with an oriental name. Years later, I decided on a Kurdish name that describes me and everything I stand for. My stage name "Zarya Azadi" stands for freedom and independence. She primarily fights for equal rights for women. A few years ago, I got an insight from a lecture by the British-Nigerian actress Uzoamaka Aduba, who is famous for her role in the Netflix series "Orange Is the New Black". Incidentally, she also have troubles with her real name for many years. She said that it was is perfectly fine to have a very complicated and foreign name in the West. After all, humanity has learned to pronounce names like Tchaikovsky, Michelangelo and Dostoevsky. She got that advice from her mother – extremely strong, independent woman, and single mother of five.
We, Kurds, suffer a lot from our ongoing identity crisis because of the global dispersion and the division of our own country by Turkey, Iraq, Iran and Syria. We, Kurds, all have passports from different countries. Many of us also have dual citizenship, but none of them – Kurdish. My identity crisis started at a young age, but it was not always understood by outsiders.
In 2014, the genocide on the Yazidis in Iraq shocked not only me, but all Yazidis worldwide, because, for the first time in our history, a genocide has been reported, thanks to digitalization. Many of us only knew this from stories and, like myself, had parents and grandparents who told them about the wars they had witnessed. 2014 was definitely a turning point in my life because, like so many others, I developed a completely new world view and after six years in England I decided to move back to my family and rethink my life goals.
Çiğdem Gül: Dear Zarya, thank you from the bottom of my heart for the interview and for our great cooperation in our joint project.
I am very impressed by your visions and responsibility as a gifted person and great commitment to human rights.





See the following pages about our project:
Page 1: The Yazidism – Yazidi Zarya Azadi & Alevi Çiğdem Gül
Page 2: Yazidi model Zarya Azadi: "Between Genocide & Fashion Week"
Page 3: The Alevism – Alevi Çiğdem Gül & Yazidi Zarya Azadi
Page 4: Çiğdem Gül: "Alevis between universe, semah & persecution"
© 2020 Courtesy of Fashion Photographer Biagio Duca (Italy)
Zarya Azadi (Germany)
Webseite: Zarya Azadi
Instagram: @zarya_azadi
Twitter: Zarya Azadi
E-Mail: contact@zaryaazadi.com
Çiğdem Gül (Wuppertal/Germany)
LinkedIn: Çiğdem Gül
Xing: Çiğdem Gül
Webseite: Interkulturelles Coaching für Hochbegabte
Instagram: @cigdem.guel
E-Mail: info@interkulturellhochbegabte.de