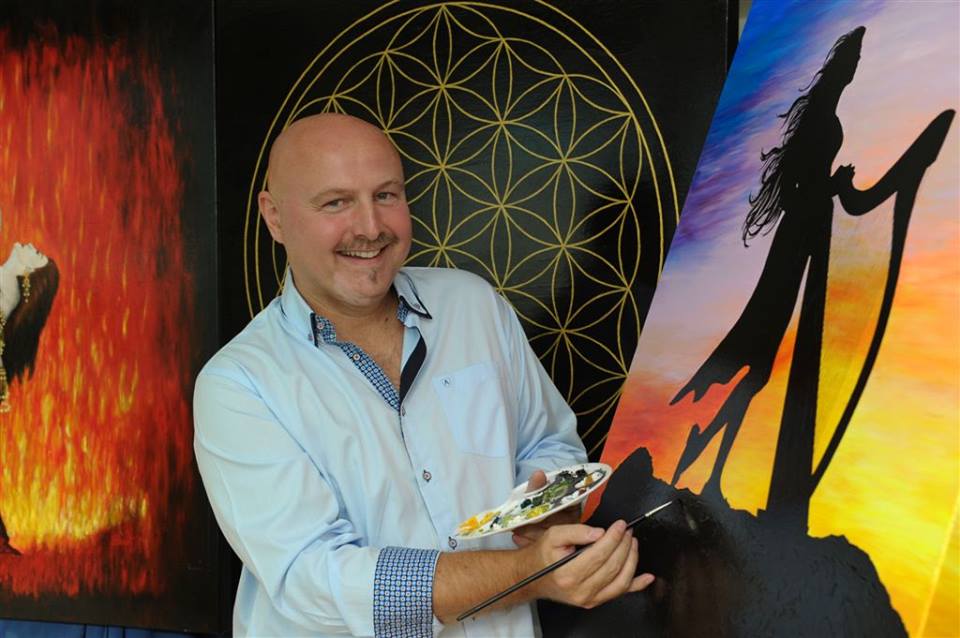 Werner Szendi – International Visual Artist
Szendi Werner (born in 1966 in Guessing, Austria, childhood and youth in Harmisch, Burgenland) currently lives and works in Vienna. He discovered his artistic talent at the age of 16. The creation of several sacral paintings for churches familiarized him early on with the techniques of the Old Masters. He uses pencil, watercolor, acrylic, oil, gold leaf, stones, as well as mental and spiritual energies for his works.
After intensive chromatic studies, he is enthralled with the opportunities to influence people by choosing the correct colors. With his commissioned works, he fulfills individual needs regarding special color and energy, as well as environmental requirements to bring about specific changes.
His light and shadow technique imparts a unique atmosphere of harmony and peace to the paintings. Spheres have a special effect for him, with him gladly introducing them instinctively into his paintings as magical elements. The sphere is a symbol of the universe and is cultural at the same time, for example as an orb symbol of power on Earth – our planet.
Through his paintings, he wishes to express his deep feelings for freedom, peace, love and healing in the world.
Paintings that touch mind and soul:
"In search of the secret of creation, which should deeply touch people's souls, I discovered that I should not confine myself to the level of my five senses. I not only portray what I see with my two eyes, but also what I see through my emotional eye. To create an eternal, remarkable work of art and to be a true creator, I combine with the divinity, taking elements from it and giving these to my works. Prayer, meditation and contemplation are resources for creative work. The works of art created in this manner reflect a healing energy on the soul of the beholder."
Schönheit als Ideal in der Kunst
Das Ausmaß der Schönheit, das der Künstler erlangen und durch sein Werk ausdrücken kann, hängt hauptsächlich davon ab, was er selber ist.
Die Schönheit gleicht einem Lichtstrahl, dessen ganze Pracht erst dann sichtbar wird, wenn er durch ein völlig durchsichtiges Medium geht. Ist das Medium undurchdringlich, wird der Strahl abgelenkt und deformiert. Deshalb ist es wichtig, dass der Künstler unermüdlich an sich selbst weiterarbeitet, bevor er zu kreieren beginnt. Der Künstler als Medium wird dadurch verfeinert, bis er fähig ist, die göttliche Pracht und Herrlichkeit wie durch einen Kristall widerzuspiegeln.
Der Künstler, der sich nie um die Farben seiner Aura kümmert, ist in Wirklichkeit keiner. Wer in seinem Inneren zielbewusst arbeitet, mit Präzision und Klarheit die schönsten Farben und prächtigsten Formen anwendet, weiß dass die Arbeit an sich selbst unverkennbar ist und geschätzt und anerkannt wird.
Wird ein Kunstwerk geschaffen, sollte jeder dessen Sinn verstehen. Wenn das Werk nur für den Künstler geschaffen wurde, sollte es nicht ausgestellt werden.
Ein wirklicher Künstler muss ein Werk zustande bringen, das kein anderer vollbringen kann. Es sollte von solcher Schönheit, Aufklärungskraft und Energie sein, dass jedes Herz, jede Seele bei Betrachtung eines solchen Werkes spürt, wie das Streben nach Vollkommenheit in ihm erwacht und immer deutlicher spürbar wird.
Alles was man hört und sieht, wirkt sich auf das Nervensystem aus. Was für die Musik gilt, gilt auch für die bildende Kunst. Entstellte, zerstückelte Landschaften und Menschen, Grausamkeiten, Farbflecke die Chaos vermitteln – all das wirkt sich negativ auf den Betrachter aus. Ordnung, Schönheit, Vollkommenheit und Harmonie wie es uns auch die Natur zeigt, lässt auch den Betrachter so werden. Das ist ein magisches Gesetz.
Viele Künstler sind sich der Rolle nicht bewusst, die sie spielen können, um die Menschheit weiterzuentwickeln.
Werner Szendi – 22.01.2017
https://www.facebook.com/pg/szendi.at/notes/
Bilder / Picture thanks to © Werner Szendi