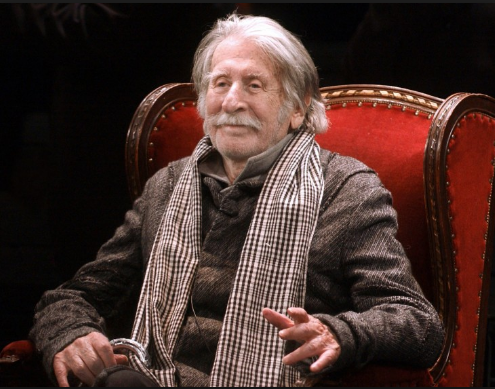 Written by Çiğdem Gül
Wuppertal / Germany
April 05, 2020
Jewish-Hungarian theatre director GEORGE TABORI:
Humorous despite Auschwitz.
In the current global coronavirus crisis and restrictions, self-isolation and social distancing, we learn from George Tabori how to keep calm, not lose confidence, and above all, to allow humour.
The theatre director George Tabori (* May 24, 1914 in Budapest, Austria-Hungary; † July 23, 2007 in Berlin, Germany) remains unforgettable in the theatre world because he taught us during his lifetime that despite his Jewish background and the worst experiences during the Third Reich, he had never lost his confidence and humour. After his father died in the concentration camp in Auschwitz in 1944, he escaped with his mother and brother out of Nazi Germany. In his later plays, the multi-talented Tabori was often able to counteract the horror of racism and mass murder with black humour and absurd comedy.
The gifted George Tabori had played many roles in life. In Berlin he was a waiter, in Istanbul he worked as a reporter, in London he was an agent, in Hollywood he was a friend of famous ladies, in New York he was a playwrighter and in Vienna he was a very well-known theatre director. In the United States, he worked as a screenwriter with Alfred Hitchcock and Bertolt Brecht.
In 1971, Tabori moved to Germany, where his new emphasis was theatre work, and mainly worked in Berlin, Munich and Vienna.
Many theatre lovers valued the "longest-serving theater maker in the world" in his last years as the "theatre king".
My respect!
Von Çiğdem Gül
Wuppertal/Deutschland
05. April 2020
Jüdisch-ungarischer Theaterregisseur GEORGE TABORI:
Humorvoll trotz Auschwitz.
In der aktuellen globalen Coronavirus-Krise und -Einschränkungen lernen wir von George Tabori, die Nerven zu behalten, die Zuversicht nicht zu verlieren und vor allem Humor zuzulassen.
Der Theaterregisseur George Tabori (* 24. Mai 1914 in Budapest, Österreich-Ungarn; † 23. Juli 2007 in Berlin, Deutschland) bleibt in der Theaterlandschaft unvergessen, weil er uns zu Lebzeiten gelehrt hat, dass er trotz seiner jüdischen Herkunft und den schlimmsten Erfahrungen während des Dritten Reiches, in dem er seinen Vater im Konzentrationslager in Auschwitz verloren hatte, er nach der gemeinsamen Flucht mit seiner Mutter und seinem Bruder, die Zuversicht und Humor nie verloren hatte. In seinen späteren Theaterstücken gelang es dem Multitalent Tabori, dem Grauen von Rassismus und Massenmord oft schwarzen Humor und absurde Komik entgegenzusetzen.
Der vielbegabte George Tabori hatte im Leben viele Rollen gespielt. In Berlin war er z. B. Kellner, in Istanbul Reporter, in London Agent, in Hollywood Freund berühmter Damen, in New York Dramatiker und in Wien ein sehr bekannter Theaterdirektor. In den USA arbeitete er als Drehbuchautor unter anderem mit Alfred Hitchcock und mit Bertolt Brecht zusammen.
1971 kehrte er nach Deutschland zurück, wo sein neuer Schwerpunkt auf der Theaterarbeit lag. Er arbeitete hauptsächlich in Berlin, München und Wien.
Viele Theaterfreunde schätzten den in seinen letzten Jahren "dienstältesten Theatermacher der Welt" als den inoffiziellen "Theaterkönig".
HUT AB!